This Woman Went From Being Out Of Breath At Half A Mile To Running Ultras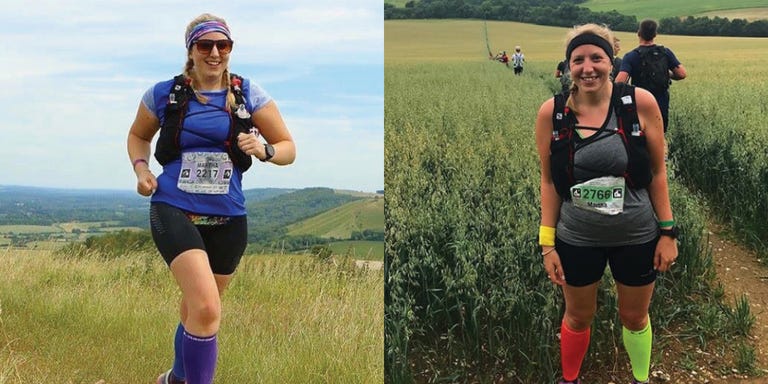 In 2013, I was 25 years old and inactive. I had recently moved to a new city, and even though I had a gym membership, I wasn't inspired to go. I didn't know anyone, and my main hobbies became eating food and drinking alcohol. I was deeply, deeply unhappy, self-conscious, and lacking in confidence.
One day, my now-husband came home from work and told me that his office had challenged him to compete in a local 10K road race. I was surprised—at this point, the only exercise either of us did was going to the gym once a month. It was a big challenge, but he tackled it.
I absolutely loved watching him train. He didn't have much of a structure—no training plan—and he didn't see a huge transformation, physically. But he would come home from runs with such a buzz, and I really envied that. On race day, I felt this high amplified. There was so much energy coming from the crowd! I knew I wanted to be a part of that. I watched people cross the finish line, including him, and I was curious—could I run, too?
A post shared by Martha – ASICS FrontRunner ?? (@martha_runs) on
I had no plan, but I put on a baggy shirt, some track pants, and a pair of old trainers. Off I went, up the road toward a nearby harbor path.
I was about 20 seconds in when I got a stitch in my side. It was so uncomfortable that I turned around and went back inside, ashamed and embarrassed that I couldn't even get to the end of the road. I decided running wasn't for me.
The following week, my husband said he was going out for a run, and it made me realize how much I wanted that to be part of my life. I decided I'd give it another go. I was under no illusions this time—I told myself if I could run from one lamp post to the next, I could have a break and walk for a bit.
This time, I actually managed to run between a few lamp posts before stopping. I probably only covered half a mile, but I felt amazing!
Over the next couple of months, I still felt awful while running, but I was able to push a little bit harder each time. And that in itself felt satisfying, and kept motivating me to try.
A post shared by Martha – ASICS FrontRunner ?? (@martha_runs) on
I started completing local 5-Ks and doing regular spin and strength classes at the gym to train for the race.
I slowly progressed my mileage, and come race day, I finally felt ready. The 10-K was hard, but crossing that finish line and feeling that energy that I had envied months before, finally feeling it for myself—that was everything. The training was worth it.
After my first race, I was still a total fair-weather runner. I didn't actually attempt another race until about a year later. Six months after that, I ran my first half-marathon. It certainly wasn't a fast process, and running didn't come naturally to me. I still struggled through every training cycle.
A post shared by Martha – ASICS FrontRunner ?? (@martha_runs) on
So in 2015, over two years after starting my journey, I signed up with him to establish a structure to my training.
I started running four to five days a week, incorporating a combination of speed work, hills, and long runs. I met new people and pushed myself harder. I kept signing up for more events and races to keep myself on a plan—and this combination of accountability and enjoyment is what kept me going.
I signed up for a marathon, then for a 100-K ultra. Surprisingly, I found the ultra easier—there's so much pressure associated with running a marathon but hardly any when you get to distances beyond that.
A post shared by Martha – ASICS FrontRunner ?? (@martha_runs) on
Now, I truly feel like a badass—and I genuinely believe I can do anything. That confidence has spilled over into my career as a lawyer, too.
Now, whether I'm running fast, far, or just with friends, I am totally and utterly addicted to the buzz.
Over the years, I've realized running gives you whatever you need in that moment—you can run on your own to clear your head or with friends to socialize. You can take on challenges of any size, and you can measure progress through your times, distances, and outlook.
Whatever your motivation, you feel good at the end. That's why I love it—because even if you're having a bad run, you still feel better when you're finished than when you started.
A post shared by Martha – ASICS FrontRunner ?? (@martha_runs) on
It doesn't matter how far or how fast you go; it's about what you get out of the miles or kilometers.
Running gives me so much; it's time to get outside, engage my body and my mind, challenge myself to try new things, meet new people, and visit new places.
Follow Martha's journey @martha_runs.
Source: Read Full Article