Woman Says McDonald's Salad Made Her So Sick, She Needed Diapers
Last month, the Centers for Disease Control and Prevention warned diners that McDonald's salads could be making people sick.
How sick, you ask? This woman says she was so ill, she was forced to wear Depends diapers after eating a salad at the fast food chain.
Now, the Iowa woman is suing Fresh Express, a company that supplies salads to McDonald's, Trader Joe's, and Kroger, Business Insider reported.
The complaint was filed Monday by law firm Marler Clark on behalf of Kellie McCall, according to a release from the firm. McCall says she experienced diarrhea, stomach cramps, fever, and severe gas on June 26, leading her to seek medical attention at Burgess Hospital in Onawa, Iowa. She was diagnosed with having an infection from the Cyclospora parasite that McCall believes resulted from eating a contaminated McDonald's salad containing romaine lettuce and carrots around June 18, 2018.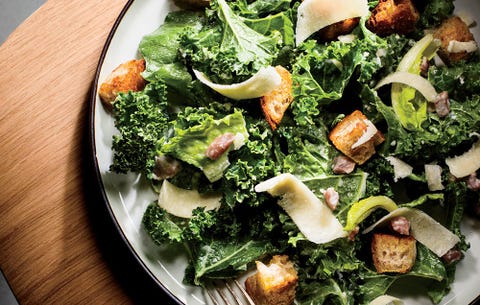 Tuukka Koski
In a set of statements on the fast food chain's website, McDonald's explained that it stopped selling salads at affected restaurants until it could find a new lettuce blend supplier.
"We have removed existing lettuce blend from identified restaurants and distribution centers – which includes approximately 3,000 of our U.S. restaurants primarily located in the Midwest," a July 13 statement reads. A follow-up statement from July 20 ensures that McDonald's is "committed to the highest standards of food safety and quality and [continues] to cooperate and support regulatory and public health officials in their investigations."
MensHealth.com reached out to McDonald's and Fresh Express, and will update the story if and when more information becomes available.
What is Cyclosopora?
Cyclospora is spread through contaminated food or water, and takes about one to two weeks for symptoms to set in, according to the CDC. Diarrhea, cramps, vomiting, fatigue and fever are common symptoms, and may last for more than a month.
According to Business Insider, the complaint states that McCall's symptoms "became so severe that she was forced to wear Depends diapers."
McCall's illness has caused her to miss a significant amount of work as she continues to be fatigued and suffer from stomach cramps, the release states.
As of August 2, the CDC has confirmed 395 cases of Cyclospora infections from people who ate McDonald's salads in 15 states. Wraps and salads containing contaminated romaine lettuce are believed to be found in Kroger, Trader Joe's, and Walgreens, CBS News reported. All items had July expiration dates.
If you think you have food poisoning, seek medical attention and contact your State Department of Health.
Source: Read Full Article