These Celebrities Are Over 40 and Fit as Hell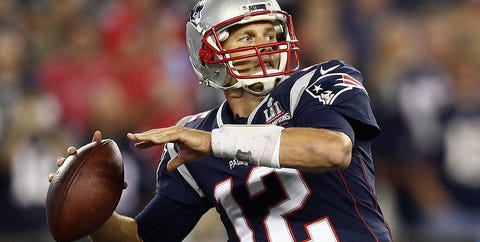 All it takes is a quick glance at Arnold Schwarzenegger's Instagram to know you don't have to be super young to be super fit. He's not alone — on this list, you'll find 30 famous guys who prove that exercise and overall fitness don't have to fade when you hit 40 (or 50, or 60, or 70).
Are you looking to get in the best shape of your life? Check out the Men's Health MA40 DVD set and learn how to completely transform your body — not matter how old you are.
Gettin' stronger – progress thru pain. 455lbs barbell glute/hip thrusts with 5 second hold at the top with hip circle above knees for greater glute activation. These small gains for me wind up being big gains in the long run considering the multiple injuries over the years I suffered on the football field and in the wrestling ring. Tore both my quadricep & adductor tendons off my pelvis. Five knee surgeries. Torn Achilles' tendon. Triple hernia (emergency) surgery. Upper body I've been a pretty lucky SOB over the years having had just one total reconstruction surgery done on my shoulder when I shredded everything. Waist up, I'm Superman… Waist down, I'm Bionic Man ?*inserts cheesy joke. If you're going thru injuries or set backs — stay focused, listen to your body and let pain be your guide to come back stronger and better. Remember any and all progress, physical or mental – will always come thru pain. #ProgressThruPain #IronParadise #CauseIFuckingSaidSo ??? Brotha @c.t.ali.fletcher
A post shared by therock (@therock) on
The former pro wrestler maintains his ripped physique through consistent weight lifting and resistance training.
Train like an athlete, train like a soldier. @usarmy @usairforce @usnavy @marines @uscg and all men and woman who serve their country and community all over the world. #GODBLESS @performinspired #inspiredtobebetter #liftsomeoneuptoday
A post shared by Mark Wahlberg (@markwahlberg) on
The actor follows a strict workout regimen to help him look the part for his action movie roles.
THIS IS 50! Thank you world for all the wonderful birthday wishes… MY BEST DAYS ARE STILL AHEAD OF ME! (I'm so serious because I've got to finish this workout)
A post shared by Terry Crews (@terrycrews) on
The 50-year-old actor looks bigger and stronger than ever.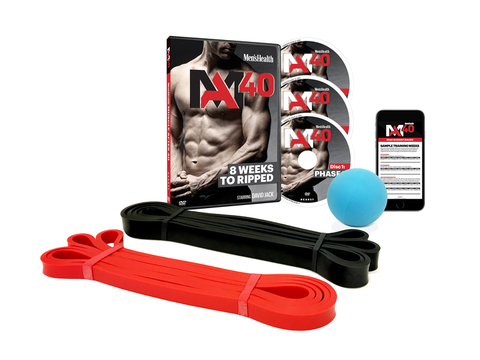 Men's Health
The MA40 DVD set relies on musclenomics (that's muscle + economics) to get you stronger, fitter, and more athletic — in less time. You'll see noticeable changes by working out just three times a week for about 30 minutes a session.
ORDER NOW
Big ups to T.J. @tnut09, Ryan, and the gang over at @baseballcentral LA for helping me get my swing ready for #stano
A post shared by JOE MANGANIELLO (@joemanganiello) on
The Magic Mike actor clearly makes physical activity a priority.
@danielsmithphotography for @menshealthuk
A post shared by Jason Statham (@jasonstatham) on
Jason Statham follows a variety of workout techniques to keep his post-50 bod strong and ripped.
☃️
A post shared by ryan (@ryanphillippe) on
The 43-year-old actor devotes as much time to his movie roles as he does to his fitness.
This is what comes of "someone" taking photos whilst I train! #youknowwhoyouare
A post shared by Hugh Jackman (@thehughjackman) on
Prepping for X-Men took Jackman's physique to the next level.
So many layers to creating a character, but often only the physical is captured in a photo. Deep in thought… what will I learn from this next venture… How will I grow from the process… as always I am grateful for the opportunity to make magic. Blessed. #Bloodshot
A post shared by Vin Diesel (@vindiesel) on
Performing a variety of movie stunts requires that Vin Diesel put in the work at the gym as well.
Sam Hanna Mode… @NCISLA
A post shared by LLCOOLJ (@llcoolj) on
The rapper and actor has never looked better at 50.
Game time. Getting pumped for #DenOfThieves. ??
A post shared by Gerard Butler (@gerardbutler) on
Working out has become a big part of the 300 actor's lifestyle.
How do you beat jet lag? Getting pumped up before I go to the red carpet of the "I" audio launch in Chennai, India.
A post shared by Arnold Schwarzenegger (@schwarzenegger) on
Age is no match for the actor's determination and grit to build a fit body.
It's always been a dream of mine to complete a standing backflip during Toddler Tumble Time. Thank you @donsaladino
A post shared by Ryan Reynolds (@vancityreynolds) on
The Deadpool star looks to celebrity trainer Don Saladino to keep him built, lean, and ready for action.
Last workout before I head out to promote @avengers .. and that's what this picture is for! Strictly promoting Avengers Infinity War. It's not at all a shameless gratuitous ab shot! ?…. ?ok ok!! It is! It's a cheap, shameless, douchey, pointless, gratuitous ab shot!! I admit it! But in my defense 1-I rarely and I mean rarely post shots like this. And 2-at my age, how much longer am I going to have abs?! So cut me some freaking slack people! and I am already aware that you don't like my damn tattoos! So save your shitty comments! Have a nice day?…and remember to get your tickets for @avengers #infinitywar #Drax #dcpride
A post shared by David Bautista (@davebautista) on
The Avengers actor posts a gratuitous selfie to show off his hard-earned abs.
Gettin it in… #WildCardBoxingClub
A post shared by Mario Lopez (@mariolopezextra) on
The father and TV personality maintains an active lifestyle to keep him fit in his 40s.
Big ol hog fish!
A post shared by Tim McGraw (@thetimmcgraw) on
The country singer enjoys being active and keeping his body moving.
The 33rd Biarritz Quicksilver Maïder Arostéguy. Mahalo @benjamin_bertaud for the shot! #Repost #papawheelie #BiarritzMaiderArosteguy ・・・ Démonstration du Laird Standup Paddle par Laird Hamilton en personne lors de cette première journée du 33e Biarritz Quicksilver Maïder Arostéguy ?? / Demonstration of the Laird Stand Up Paddle by Laird Hamilton in person during the first day of the 33rd Biarritz Quicksilver Maïder Arostéguy ?? . . . #surf #surfing #surfer #laird #Hamilton @lairdhamiltonsurf #biarritz @surfingbiarritz #grande #plage #beach #sea #wave #standup #paddle @lairdstandup #maider #Arostéguy #competition @surfsessionmag @oceansurfreport @wsl #enmodebasque @paysbasque_tourisme #nikon #sport #sigma #sigmasport #session
A post shared by Laird Hamilton (@lairdhamiltonsurf) on
The professional surfer likes to catch waves wherever he visits.
What's up #NYC!! Pumped to be here at #Superdry34ST kickin off our fresh new collection #idriselbaxsuperdry!
A post shared by Idris Elba (@idriselba) on
With arms of steel, the guy has no trouble landing movie roles and working on his fitness.
The More REAL You Get… The More UNREAL It Gets" – Muhammad Ali
A post shared by Tom Brady (@tombrady) on
Tom, who follows an ultra-strict exercise and nutrition plan, is still a star NFL quarterback in his 40s.
Off to the gym. It is a life saver and game changer. CHALLENGE YOURSELF, it may be the toughest battle of your life and the most rewarding. GO FOR IT!!! #Unbreakable #expendables
A post shared by Sly Stallone (@officialslystallone) on
How to be fit as hell in your 70s, courtesy of Sylvester Stallone.
Wrapped. Life back. Bye ?
A post shared by Tom Hardy (@tomhardy) on
The busy TV and film actor always makes time to get a good workout in.
Taking a break from shooting Creed II. ? #CREED2
A post shared by Dolph Lundgren (@dolphlundgren) on
The Swedish actor is also a martial artist.
Mr Richie's challenge to myself day 2. @guyritchie
A post shared by David Beckham (@davidbeckham) on
The former pro soccer player maintains and healthy and active lifestyle well after retirement.
Meet ERIN!!! My new bestie @bestfriendsanimalsociety !!!! This gorgeous gal is READY to get out of the shelter and lay all over you. She's been there way too long already. Don't be intimidated by her size. Just so much more of her too love! I spent a good chunk of time with her today and she is truly a mush. If you're in NYC and want a pal… look no further. All adoption fees are paid for. All you have to do is be as amazing as her and go GET HER. She's been there far too long, for no good reason. Let's help her out! #adoptdontshop #pitbull #pitbullsofinstagram #rescue
A post shared by @ justintheroux on
Boxing is the workout of choice for the former Men's Health cover guy.
Change the body… change the mind… build the character… is my process when I'm getting ready for a challenging role… this one will be important…. #characters #dissapearingact ???? @sportsacademyhq got the secrets
A post shared by Jamie Foxx (@iamjamiefoxx) on
It takes a lot of work, but Jamie is prepared to transform his body for a role.
Been sitting on this for a while. The only way I could think of to get my mom barreled! Thank you @gopro for the inside view at @kswaveco #SurfRanch. [email protected] @slaterdesigns @firewiresurfboards @outerknown
A post shared by Kelly Slater (@kellyslater) on
Kelly proves his sport does wonders for the body after 40.
A post shared by Floyd Mayweather (@floydmayweather) on
The champion boxer puts in as much work in the gym as he does in the ring.
Men's Health cover and feature is out! And Im still sore from holding this pose. ?? Thanks @menshealthmag @aspictures @davestanwell @adam_nicklas and @teamid and for the fun shoot! Link to article in bio ?
A post shared by James Marsden (@james_marsden) on
The actor and former Men's Health cover star doesn't look a day over 30.
@swatcbs RETURNS Tonight and Hondo's got a little anger to take out ?????? You don't want to miss this Episode…. TUNE in on CBS at 10/9c ????
A post shared by Shemar Moore (@shemarfmoore) on
The actor and former model makes the gym a priority as he approaches the big 50.
Woody's favorite part of working out… #raydonovan #lievschreiber #riseandshine
A post shared by Liev Schreiber (@lievschreiber) on
The Ray Donovan star likes to mix things up at the gym.
Source: Read Full Article