My day on a plate: Jessica Sepel
Clinical nutritionist Jessica Sepel, 29, shares her day on a plate.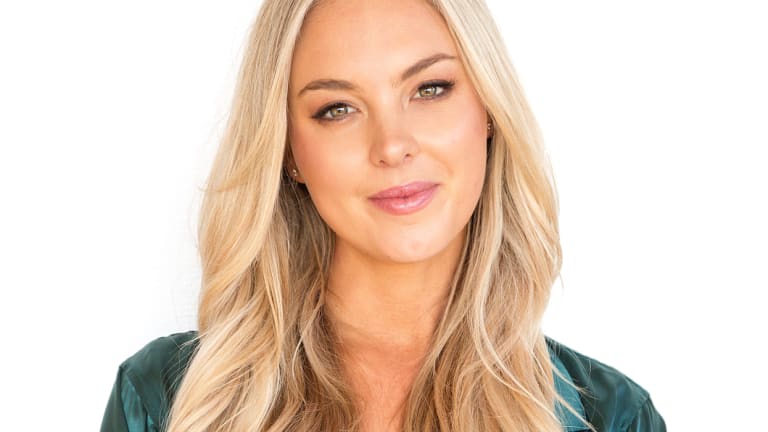 Jessica Sepel.
8.30am After a 30-minute walk and 10-minute yoga stretch, I have a piccolo coffee, two organic scrambled eggs with smashed avocado and a slice of seed bread, made from my own recipe.
11am A sliced green apple with cinnamon and some raw almonds.
1pm Today's homemade lunch is a grilled salmon bowl with roasted pumpkin, brussels sprouts, kalettes and a big dollop of hummus. 4pm Two chocolate protein bliss balls, again from my own recipe.
7pm Tonight I make teriyaki chicken with seasonal vegetables such as carrots, broccoli, kalettes and sweet potato wedges. The teriyaki sauce is made from tamari, Dijon mustard and sesame oil.
8.30pm Healthy "nice-cream" made with frozen banana, almond butter, cinnamon and sea salt. I have a cup of herbal tea and a relaxing bath with lavender and some Epsom salts before an episode of MasterChef and then bedtime.
Dr Joanna McMillan says…
Top marks for … Being in the 7 per cent of Australians who meet the recommendation of at least five serves of vegetables a day. Including them in both lunch and dinner was a great way to achieve that.
If you keep eating like this you'll … Be a role model for the power of diet and lifestyle to optimise health and reduce the risk of the chronic diseases that ail us as we age.
Why don't you try … Varying the foods you eat to include as much variety as you can. We can all slip into the habit of buying the same things; diversity is key for maximising intakes of nutrients and beneficial plant compounds.
Jessica Sepel is an ambassador for Coles kalettes.
This article appears in Sunday Life magazine within the Sun-Herald and the Sunday Age on sale September 2.
Source: Read Full Article