Blacks Have Shorter Life Spans After Surviving Heart Stoppage: Study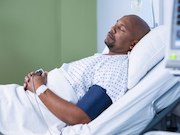 MONDAY, July 9, 2018 — Black patients who survive cardiac arrest during a U.S. hospital stay have poorer long-term survival odds than their white peers, new research suggests.
The study included data from patients aged 65 and older who survived at least until they were discharged from the hospital. The investigators found that, compared with white people, black people were 28 percent less likely to live one year and 33 percent less likely to survive five years.
The black patients in the study were more often female and younger, were sicker, had higher rates of kidney and respiratory problems and pneumonia, and were more likely to have been on dialysis before their cardiac arrest, the findings showed.
"Notably, black patients were less likely to have had a heart attack during hospital admission or a prior history of heart attack," said study lead author Dr. Lena Chen, an assistant professor of internal medicine at the University of Michigan.
"As a result, they were more likely to have a non-shockable initial heart rhythm of pulseless electrical activity and to have experienced their heart stoppage in an unmonitored hospital unit," said Chen.
The researchers did not examine differences in caregiving, social support, or income between black and white patients.
The study was published July 9 in the journal Circulation.
"Our study's findings suggest a need to examine to what degree differences in post-discharge care explain racial differences in long-term survival after heart stoppages," Chen concluded in a journal news release.
More information
The American Heart Association has more on cardiac arrest.
Posted: July 2018
Source: Read Full Article