A 4-Month-Old Just Died From Meningitis After Likely Exposure To An Unvaccinated Person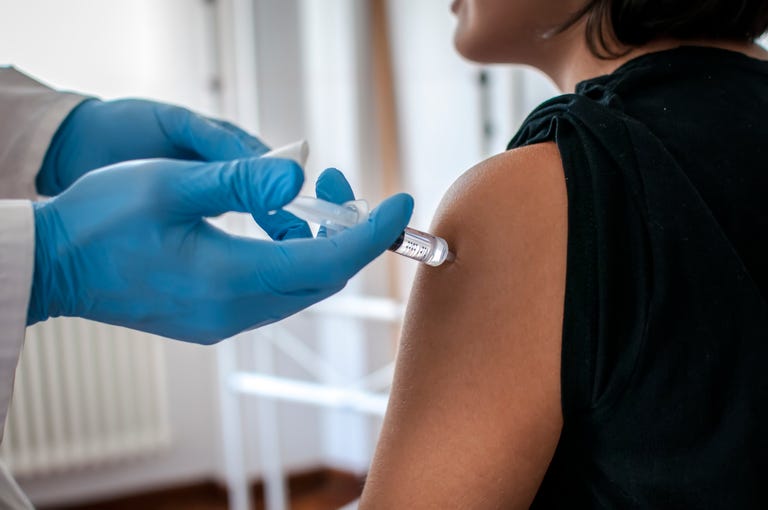 A 4-month-old baby in Virginia died from meningitis recently, and his parents are now urging people to get vaccinated.
Killy Schultz died on June 30 after developing a rash and high fever on his way home from daycare, WTRV reports. "He had just eaten his bottle for the afternoon. He was a little warm but we figured it was a warm day so get him home and let him cool off," said Killy's mother Alex Dempsey.
Killy was given Tylenol but when that didn't work, he was taken to the ER. His condition got worse, and he was admitted to the pediatric ICU. "He was still trying to make little sounds, but he had a hard time opening his eyes and his blood pressure was very low. He wasn't doing well at all," said Alex.
After a few tests, Alex and her fiancée Gabriel Schultz were told that Killy had meningitis, an inflammation of the brain and spinal cord membranes. "The moment they said meningitis I knew there was a really strong possibility that we were going to lose him," Alex said.
"They told us we were going to hit the window if he was going to make it or not, but being he was only 4 months old he didn't really have an immune system to help us with that."
Alex said that Killy's heart rate dropped "out of the blue" and medics performed CPR on her baby, but Killy never recovered. Alex also said that health officials told her that it's most likely that an unvaccinated person infected her child—which is why Alex is now urging everyone to get vaccinated.
What is meningitis?
Meningitis is a bacterial or viral infection of the fluid surrounding the brain and spinal cord, which usually causes swelling, according to the Centers for Disease Control and Prevention (CDC).
Though it's unclear what type of meningitis Killy had, many cases of meningococcal meningitis are caused by the bacteria Neisseria meningitids. Other types of bacteria that can cause meningitis include Streptococcus pneumoniae (which causes pneumonia, ear, and sinus infections in adults), Haemophilus influenzae, and listeria, the Mayo Clinic says.
Symptoms of meningitis most often include fever, headache, and stiff neck, as well as nausea and vomiting—but babies may not have those specific symptoms, and instead might appear slow or inactive, or irritable.
Also, the bacteria that causes meningitis spreads incredibly easily through coughing, sneezing, kissing, or sharing utensils, the Mayo Clinic says, which is why it's so important to make sure you and your child are up to date on vaccines.
What meningitis vaccines are you talking about?
There are two types of vaccines in the U.S. that can help prevent meningitis: meningococcal conjugate vaccines and Serogroup B meningococcal vaccines,
It's recommended that all 11- to 12-year-olds are vaccinated with a meningococcal conjugate vaccine and receive a booster dose at 16, per the CDC. Teens and young adults between 16 and 23 years old should also get a serogroup B meningococcal vaccine, the CDC says.
It's generally not recommended that babies get either vaccine, but children with health conditions like a damaged spleen or HIV, or who have traveled to a country where meningococcal disease is common can get the vaccine as young as 2 months, the CDC says.
The haemophilus influenzae type b (Hib) vaccine and pneumococcal conjugate vaccine, which are recommended starting at age two months, can also help protect a child against meningitis, per the CDC—but, because the vaccine includes multiple doses, it takes a while to develop full protection.
But these vaccines, like all vaccines, are only suggested—meaning, they're not mandatory and no one can be forced into getting them (or making their children get them).
"If anything comes out of this we want people to be aware that vaccinations can prevent things like this," Alex said. "Vaccines aren't just for kids they're for adults too. He was just a baby, so he really didn't have much of a chance."
A GoFundMe page has been set up for Killy's family to help with his funeral expenses.
Source: Read Full Article