5 of the Best Places to Find Cute Pets on Pinterest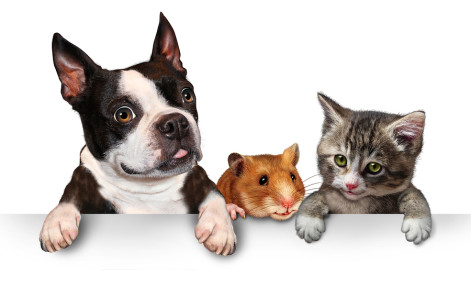 Photo Credit: digitalista, Bigstock.com
When looking for cute pets, one need not look any further than Pinterest! And not only does Fetch! Pet Care have an ever-growing presence on the popular social network, but we've scouted out some of the best places to find other pictures of cute and cuddly pets while you're there. By the time you finish this post, you're going to be well on your way to becoming lost in a sea of clicks as you revel in all the furry goodness going on at Pinterest right now!
The Best Pet-Related Accounts on Pinterest
1. ASPCA
Why lead with just any Pinterest account featuring cute pets when we can share one with a great purpose, right? If you haven't done so already, go follow the American Society for the Prevention of Cruelty to Animals right away. They've got a thrilling collection of adorable pets and some very useful boards, such as those for pet care tips, animal advocacy and more!
2. Best Friends Animal Society
The Best Friends Animal Society's Pinterest account features more than 2,000 fuzzy critters of all kinds. They've got pigs, bunny rabbits, horses and, of course, plenty of cats and dogs to get you through the day. While you're there, be sure to check out their special board dedicated to adoptions in case you're in the market for a new cuddle buddy or two!
3. Petplan Pet Insurance
You may have heard about our partnership with Petplan Pet Insurance already, but have you checked their Pinterest account out yet? With more than 8,000 pins shared you're sure to find all of the cute pets you can stand in a single session. We don't just say this because these awesome folks are our friends, but Petplan really has done a pawsome job of curating the cuddliest, cutest little love bugs to be found anywhere on the world wide web!
4. Petfinder
If you're looking for a new pet or want to help abandoned pets find furever homes, then hurry on over to Pinterest and follow Petfinder right away. Seriously, not only can you get your daily fuzzy fix there, but a few repins may be all that's needed to help relocate one of their adoptable animals. You can also find plenty of pet care tips while basking in all the furtastic goodness they're serving up there!
5. BarkBox
Memes, GIFs, videos and more will find their way to your screen if you follow BarkBox on Pinterest. They've got some seriously cute pets featured in more than 9,000 pins and growing! BarkBox even has a really cool collection of dog quotes, so get on over there and repin till your heart's delight!
Craving More Cute Pets on Pinterest and Beyond?
We'll always provide you with the best pet care tips and pics right here on our blog and you can also follow us on social media where we'll lead the way to more great finds like the ones shared today. Before you go, though, do us a favor and share some of your favorite pet-related Pinterest accounts in the space provided below. Oh, and don't forget to share this post with everyone in your own social networks!
Source: Read Full Article