Shield Yourself From the Summer Sun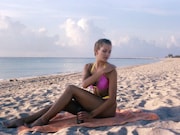 SATURDAY, July 28, 2018 — When you're out having fun in the sun this summer, remember to take steps to prevent sunburn.
Along with being painful, sunburns can cause lasting damage that can lead to a number of skin problems, including skin cancer, warned Dr. Suzanne Olbricht, chief of dermatology at Beth Israel Deaconess Medical Center in Boston.
"The sun's UV rays damage the DNA in the cells of your skin," she explained in a medical center news release. "These harmful DNA changes can be quite profound and you will sometimes see the damage in the form of peeling skin."
All skin types can burn, Olbricht added.
"The darker one's skin, the more melanin is present and therefore the greater the UV protection," she said. "But no matter the color, your skin can burn. Everyone should take precautions when heading out into the sun."
Use a broad spectrum sunscreen with a strong sun protection factor (SPF).
"SPF measures how well the sunscreen protects your skin compared to if you were not wearing it," Olbricht said. "For example, if it normally takes 20 minutes for your skin to turn red, a product with SPF 15 will typically prevent sunburn 15 times longer."
Use lots of sunscreen and reapply regularly. One ounce, or a shot glass full, of sunscreen will cover your entire body, including your face, ears and scalp.
"A rule of thumb for reapplying is every two hours," Olbricht said. "But if you're swimming or sweating a lot, you will want to reapply more often."
Try to stay out of the sun when its rays are strongest, between 10 a.m. and 2 p.m. Wear sunglasses with UV protection, a wide-brimmed hat, and clothing with UPF protection (ultraviolet protection factor).
"A lot of children's summer clothing and swim attire can be found with UPF 50+, which helps block 98 percent of UVA/UVB rays," Olbricht said.
More information
The U.S. Centers for Disease Control and Prevention has more on sun safety.
Posted: July 2018
Source: Read Full Article