Focused Ultrasound May Briefly Open Blood-Brain Barrier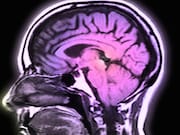 THURSDAY, July 26, 2018 — A new approach to getting drugs through the blood-brain barrier in Alzheimer's patients shows early promise, according to a study published online July 25 in Nature Communications. The research was published to coincide with the annual Alzheimer's Association International Conference, held from July 22 to 26 in Chicago.
The early-stage research was conducted in five patients with Alzheimer's disease. Nir Lipsman, M.D., of the Sunnybrook Health Sciences Centre at the University of Toronto, and colleagues say that magnetic resonance-guided focused ultrasound, when combined with injected microbubbles, transiently opens the blood-brain barrier with a high degree of spatial and temporal specificity. There were no serious side effects or worsening of mental function reported.
"The results of this safety and feasibility study support the continued investigation of focused ultrasound as a potential novel treatment and delivery strategy for patients with Alzheimer's disease," the authors write.
InSightec, the manufacturer of the ExAblate Neuro device used in this study, was a sponsor of the study.
Abstract/Full Text
More Information
Posted: July 2018
Source: Read Full Article