How to Train Like a Speed-Demon Flag Football Champion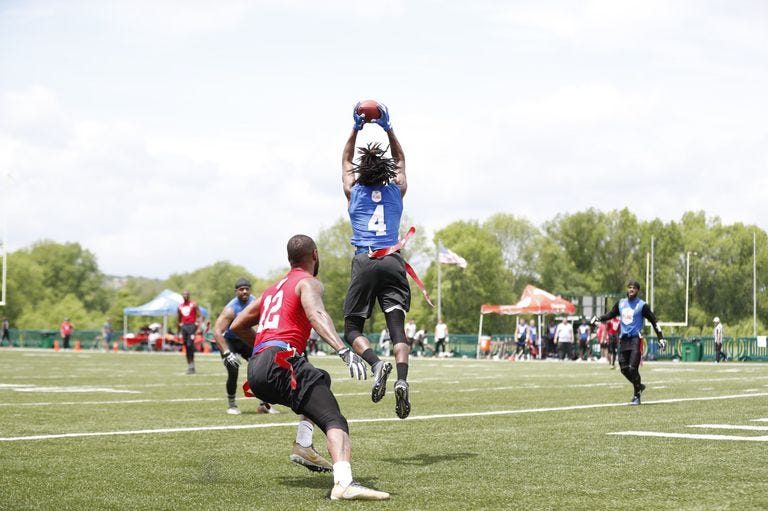 If you caught the 1996 Olympics back in the day, the streak of gold you saw blaze down the track was one of the best ever to lace up a pair of spikes: Michael Johnson.
The sprinter was among the most dominant athletes of his era, winning gold medals in the 200, 400, and 4 x 400 meter events during an Olympic career that spanned from 1992 to 2000.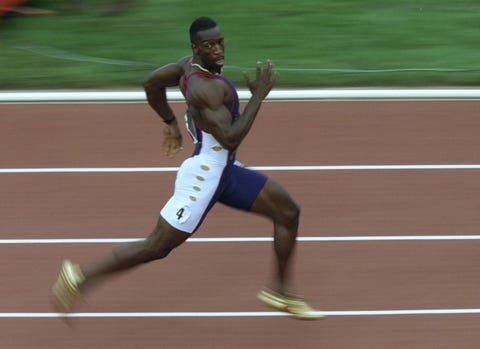 Johnson in his signature gold cleats at the 1996 Olympics in Atlanta.

Getty ImagesSimon Bruty
But there's more to Johnson than running. A consummate lover of sports since childhood, the track and field icon has taken on a new role: pro flag football player.
Johnson is a key member of the new American Flag Football League (AFFL), a series that brings former pro athletes and recreational players to the same playing field. He serves as the co-captain of one of four pro teams (with former NFL running back Justin Forsett), dubbed "Godspeed" in a nod to his track prowess. Other teams include the Roadrunners, captained by former NFL quarterback Michael Vick; Ocho, captained by former NFL wide receiver Chad Ochocinco; and Holdat, co-captained by 3-time NBA Slam Dunk Champion Nate Robinson and NBA All-Star Carlos Boozer.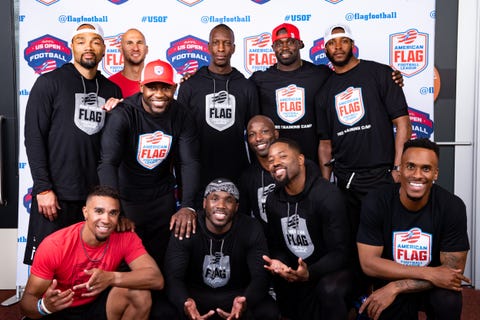 Johnson (back center) with his AFFL squad.

AFFL
The league is currently in the midst of the AFFL US Open of Football (USOF), a single-elimination tournament that started with 132 teams of everyday players in March 2018. The USOF will culminate on July 19 in Houston, as the champions of the pro and amateur brackets face off in a winner-take-all $1 million "Ultimate Final," which will be broadcast on the NFL Network.
We caught up with Johnson ahead of his team's first contest on July 8, when he and his group of speedsters take on Holdat in the first round of the pro bracket.
Achieving Peak Performance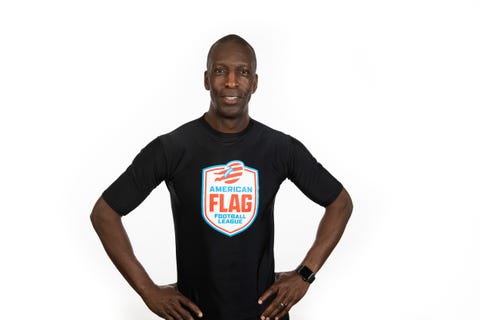 Johnson today.

AFFL
Even though he has been retired from track and field for over a decade, Johnson is still extremely active in the athletic community.
"Less than one percent of athletes get to compete on a professional level," Johnson told Menshealth.com. "I was able to achieve the ultimate dream."
To help others reach that same goal, he opened Michael Johnson Performance in Dallas in 2007. The center incorporates sports science, speed training, injury diagnoses, and support for a wide variety of athletes, ranging from high-level clients like Manchester United and the Dallas Cowboys to youth athletes looking to develop properly.
Johnson's biggest piece of advice for wannabe athletes? Learn how to train smart. "Understand the difference between working hard and working effectively," he said. "Every training session must be effective in achieving improvement. Athletes have to take an active interest in learning and understanding what works and what doesn't. Athletes must also understand all of the things that impact performance, such as nutrition, rest and recovery, and mental skills, and work to be most effective in each of these areas."
The former-Olympian also advises his athletes to learn to understand themselves: their likes and dislikes; strengths and weaknesses; and unique personality traits in order to harness their best possible performance.
Staying in Shape
To co-captain a flag football team full of recent NFL talent at 50 years old, Johnson has to be in top shape. He still runs two to three miles or uses the rowing or elliptical machine for 30 to 45 minutes on his cardio days, while his strength training routine includes a series of body weight movements for balance and stability and kettle bell reps.
One of his emphases — in both his own training and his plans for clients — is injury recovery. He had to overcome injuries like pulled hamstrings and stress fractures in his own career, so he knows how hard it can be for athletes to bounce back.
"Injury is one of the most difficult things to deal with as an athlete," said Johnson. "Getting better requires the same amount of effort as when you're training uninjured."
Johnson believes if you want to see your progress in your body, make sure you track everything. "I am not as diligent as I was when I was training for the Olympics, but I still track my progress," he said.
With that in mind, Johnson shared one of his go-to fully body workouts for clients to perform with only a light weight plate or a set of light dumbbells. Try this out if you find yourself on the road without access to a full gym or coming back from an injury — if it works for someone who was once crowned the World's Fastest Man, it should work for you.
The Workout
Getty ImagesBERKO85
Get Up with Press
3 sets of 5 to 8 reps
Start lying prone while holding a plate on the chest. Tuck one leg underneath the other and use it to push yourself up, never letting the plate touch the ground the whole time. Once you reach a standing position preform, a shoulder press by lifting the plate straight overhead.
RDL
3 sets of 5 to 8 reps
Start in a standing position while holding the plate at hip level with your arms fully extended. Keep a slight bend in the knees and the chest tall. Push the hips back slowly to lower the plate just past the knee. While keeping a flat back the whole time, slowly return to the starting position.
Around the World
3 sets of 5 to 8 reps
Start in a standing position while holding the plate at hip level with arms fully extended. Keep a slight bend in the knees and the chest tall. Swing the plate in a circle around the head while keeping the arms extended, control through the swing. Repeat in the opposite direction.
Overhead Squat
3 sets of 5 to 8 reps
Start in a standing position with your feet slightly wider then shoulder width. Hold the plate over your head in line with the feet. While pushing the hips back, bend your knees until your thighs reach parallel position, then explode upward back to the original stance.
Russian Twists
3 sets of 15 reps
Start in a seated position with both feet on the ground, holding the plate on either side. Rotate the upper body while moving the plate with bent arms and tap the floor next to the hip. Rotate the opposite way and tap on next to the hip — that's 1 rep. For an extra challenge, lift your feet off the ground.
Plate Swings
3 sets of 5 to 8 reps
Start in a wide standing position while holding the plate at hip level, with your arms fully extended. Keep a slight bend in the knees and the chest tall. Keep the arms fully extended and swing in front down between your legs, being careful not to hit yourself. Pull through the legs and swing up above your head.
Source: Read Full Article