Women With Asthma More Likely to Develop COPD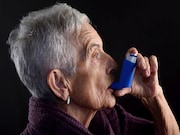 FRIDAY, Aug. 10, 2018 — More than 4 in 10 women with asthma developed chronic obstructive pulmonary disease (COPD), and heavy smoking and obesity were among the significant risk factors, a new study found.
The research involved more than 4,000 women with asthma in Canada who were followed for about 14 years after being diagnosed with the condition. During that time, 42 percent of the women developed COPD.
The researchers examined risk factors for developing asthma and COPD overlap syndrome (ACOS). They found that women who had smoked more than the equivalent of a pack of cigarettes a day for five years were much more likely to develop ACOS than those who smoked fewer cigarettes or never smoked.
However, 38 percent of the women who developed asthma and COPD overlap syndrome had never smoked.
"Previous studies have found an alarming rise in ACOS in women in recent years and that the mortality rate from ACOS was higher in women than men," said study author Teresa To, a professor at the University of Toronto Graduate School of Public Health.
"We urgently need to identify and quantify risk factors associated with ACOS in women to improve their health and save lives," To added in a university news release.
The study was published online Aug. 10 in the Annals of the American Thoracic Society.
COPD is a chronic lung disease caused mainly by smoking and it is irreversible. It is also the third leading cause of death in the United States, according to the American Lung Association.
In addition to smoking, the researchers found that obesity, living in a rural area, lower education levels and unemployment were significant risk factors for asthma and COPD overlap syndrome.
These factors are associated with being poor and having less access to care, under-treatment of asthma and failure to take medications, all of which can lead to more frequent asthma attacks that can cause airway changes that increase the risk of ACOS, the researchers explained.
The authors noted that people can change most of the risk factors for ACOS identified in the study.
More information
The U.S. National Heart, Lung, and Blood Institute has more on COPD.
Posted: August 2018
Source: Read Full Article